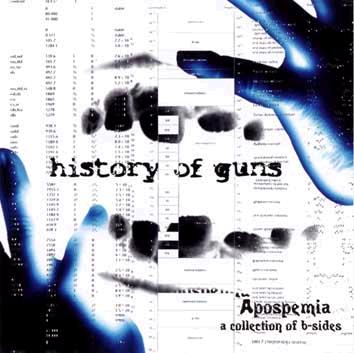 Title: Apospemia (A Collection Of B-Sides)
Release date: April 2005. Cat: LENCD10

Full Tracklisting:
1. Commercial
2. Save Barney
3. Spoonburn
4. Break!
5. Tomb (live)
6. You Are Nothing
7. Inside Your Head

Sleeve Notes:
Apospemia – yet another free cd from History Of Guns

On a dark moonlit night, on the outskirts of Leeds... no, yeah, right... welcome to the latest free cd from History Of Guns. It's just a fucking advert! No, not really, although it was going to be... Fortunately extensive intensive high powered focus groups and precision engineered probing market research interrogations told us that people might be a little disappointed to receive a cd which just contained track one as per our initial idea in the History Of Guns boardroom. 'Disappointed?' we asked in disbelief, 'but it's fucking free?!'

Tracklisting:
Commercial
Save Barney
Break !
Spoonburn

So yes it's free.... make copies and give them to passing strangers in the streets.... all art should be free... but then again so should food, so please feel free to send donations payable to 'history of guns' to History Of Guns, PO Box 165, SG13 7EZ, UK... (paypal details at www.historyofguns.com )... though don't feel guilty if you can't be arsed.

Track one is titled Commercial for hopefully apparent reasons. The rest of the cd is made up of some other tracks that are currently without homes, (and with the weather the way it is, it would have irresponsible to leave them outside in the cold). The story behind Save Barney is unfortunately too long to go into here... Break was entirely put together by Hughes The Reverend, and Spoonburn is a reworking of the track Moonburn by sometime guns collaborator Daaaan Vincent...

Oh and we've got a new album coming out in the very near future APOPHENIA... please buy it, it's really good...

gunsout

Information:
People kept asking where new History Of Guns album APOPHENIA was... Apparently the final mix had been completed in December 2004. History Of Guns remained tight-lipped promising it would be out 'soon', and skilfully ducked questions about the financial stability of Liquid Len Records...
Suddenly out of nowhere History Of Guns unleashed a new promo cd titled APOSPEMIA (A Collection of B-sides). There was no accompanying press release just the garbled notes on the back of the sleeve which proclaimed: "Track one is titled Commercial for hopefully apparent reasons. The rest of the cd is made up of other tracks which in an alternative universe would have been the b-sides to all the massively successful singles from new guns album Apophenia."
A b-sides collection released before the album from which the singles would have been taken if they were going to be released which they're not then?!
No, we didn't get it either...
Additional:

In a bit cut down the confusion surrounding the release History Of Guns issued the following:
"A quick guide to the tracks:
COMMERCIAL contains clips from forthcoming new album APOPHENIA LP and various other things curiously cobbled together into a mildly entertaining sound collage...

SAVE BARNEY is an electro punk track originally written for a charity compilation which never materialised. Since this protest song was created we're pleased to say that the band Dai Glo Dennis were finally given a gig at Club 85, and Barney was returned to his family. Though it's doubtful if he'll ever make a full recovery.

SPOONBURN is a floaty remix of previous guns track MOONBURN by sometime guns collaborator Daaaan Vincent

BREAK! is dark drum & bass courtesty of Hughes The Reverend. When we recorded Flashes Of Light - Part Two, hughes heard the little bit of del going 'Something's got to break, i always thought it would be this way' and excitedly announced the words had instantly conjured up and entire drum and bass song in his head. We thought he was well out of it until he gave us this...

TOMB is live guns from the gig we filmed for the dvd '27 Paces' at Hertford Marquee Club in August 2004

YOU ARE NOTHING is just a load of shouting. Originally we were going to be coughing and sneezing, but by the time we'd got back from the pub our colds seemed to have vanished.

INSIDE YOUR HEAD is max and del jamming after a tonne of vodka, then they added a few beats and sfx... we didn't develop it for the album 'cos it's stylistically a bit similar to stuff from FLASHES OF LIGHT LP.
gunsout"


Commercial
(history of guns)

History Of Guns coming soon
History Of Guns Apophenia
History Of Guns brand new album
History Of Guns Apophenia
etc.

Save Barney
(rael/schuster)

On a dark moonlit night
on the outskirts of Leeds
in a motorway service station
little Barney got lost and ended up in KFC

The security cameras captured nothing
just a dark blur and blinding light
and the black van of Dai Glo Dennis
has a new passenger tonight...

Save Barney
He's dying
Come on Club 85
Keep that boy alive

The violent narcotic atmosphere
the perverse fill Barney's head
the stained satin sheets of his new home
where he'll be fed on lint and spiders eggs

With each night that passes
the light of innocence fades from his eyes
a cruel corrupted lear grows
he sinks another beer and floats away

Save Barney
He's dying
Come on Club 85
Keep that boy alive

Club 85 you had better act quick
with the corruption, destruction and mayhem
it may already be too late
but i think he's turning into one of them

Save barney
He's dying
Come on Club 85
Keep that boy alive
Save barney
He's dying
Come on club 85
Let them play live

Break!
(hughes) inspired by the voice of Del Alien


Spoonburn
(rael) remixed by Daaaan Vincent
original track Moonburn from The Mirror Pond EP

Dead cities... Broken pillars...
Eerie quiet... Slow death, by aging...

This moon burns with quiet

Empty seas... Oppressive calm...
All this distance... between us...

This moon burns with quiet

They force me away to a world of numbers
i want to stay but stuff gets in the way
An hour for a life pulls me closer to the knife
This isn't how it was supposed to be
We always said it'd be you and me
This isn't how it was supposed to be
We always said it'd be you and me
They force me away to their world

click here to go to selected discography click here for the complete discography