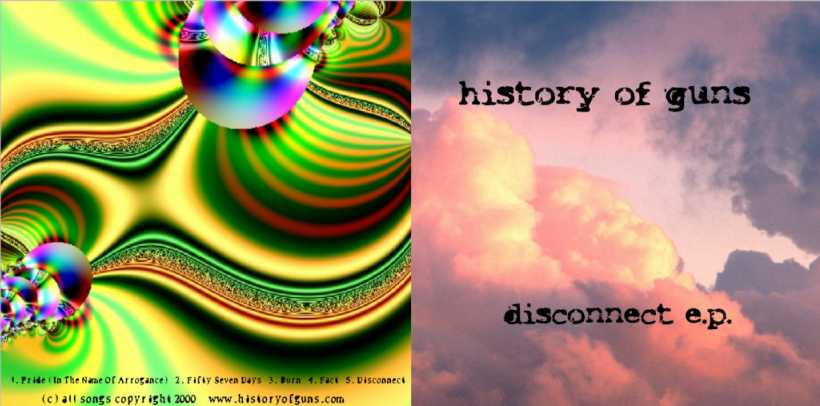 Title: Disconnect EP
Release date: June 2002. Cat: LENCD04

Tracklisting:

1. Pride
(In The Name Of Arrogance)
2. Fifty Seven Days
3. Burn
4. Fact
5. Disconnect
Information:
The first material recorded as a two-piece after the departure of founder member Stagger Lee. What started as a couple of session to finish off a couple of leftover tracks from Enough Is Too Much led to the additional creation of three new songs.
One of these three songs was the song 'Reconstructing Terror' which appeared on the compilation Contains No Holy Additives - Part IV.
Credits:
Voice - Del Alien
Guitars & Machines - Max Rael
Guitars on track 3 - Gary Hughes

Pride (In The Name Of Arrogance)
(Rael)

Can i have one last look at you?
Can i have one last look at you?
Can i have one last look at you?
Can i have one last look at you?

One man washed in a dildo farm
One woman she resists
Mon wan fried a righteous god
and bono was born again...

Pride in the name of arrogance
Pride in the name of arrogance
Pride in the name of arrogance
Pride in the name of arrogance

(c) liquid len records 2001


Fifty Seven Days
(words by Stagger Lee, music by Max Rael)

1. As i drain from my system
Humanity, tears, love and hate
Self respect and guilt come rushing back to me
My weaknesses become my strengths; my ugliness becomes my beauty
My apathy to the world, has become my desire to save it.

2. Another day, another way
Petty lives with petty problems with no fucking solutions
I hear everyone screaming, but I don't know what I'm saying
I would lose myself in tomorrow, if only someone would listen
(for a short while)

Underneath it all,
Frail, wretched, fragile, broken
As if you didn't know that
The way out is through
Into the void
The great below
Just like you'd imagined
I'm looking forward to joining you
(finally)

(c) liquid len records 2001
back to top
------------------------------------------------------------


Burn
(words by Stagger Lee, music by Max Rael)

1) Why are you doing this to me? It keeps tearing me apart
Feeling closed I don't know what's inside this head
I don't know who put it there... Swiftly I fall
Remembering all my sins, Remembering all

Burn, Burn, Burn, Burn
I'm gonna burn it all down

2) I close my eyes to see for real
We close our eyes to see for real
I never wanted you to feel any pain
I'd thought you'd understand
Why i burn in hell

Burn, Burn, Burn, Burn
I'm gonna burn it down
Burn, Burn, Burn, Burn
I'm gonna burn it all down

(c) liquid len records 2001
back to top
------------------------------------------------------------


Fact
(words by Del Alien, music by Max Rael)

lyrics unavailable at this time


(c) liquid len records 2001
back to top
------------------------------------------------------------


Disconnect
(words by Del Alien, music by Max Rael)

It's all too real to feel
I find beauty in death
Come in and writhe
To find one reason why
If it's not the end
It's the beginning
If it's the beginning
Let it end

It's all so real I can't feel
If I feel I disconnect
If I disconnect then I feel real
It's all so real I can't feel
If I feel I disconnect
If I disconnect then I feel real
If I disconnect then I feel real
If I disconnect then I feel real


(c) liquid len records 2001
back to top
------------------------------------------------------------

click here for discography
click here for shop