Want to find out what's new at the 'guns' site?..
or read some previous news?...
20th Dec '09

5th Aug '09

12th - 17th Dec '07
- New site design
- Change to main pic
- Details of Bedford Gig
- Updates to Gig History

2007
- Not many changes as awaiting new site design


22nd May '07
- Change front page to show the free download flyer.


28th Dec '06
- Completely update news page to include details of RECORD CONTRACT with LINEOUT RECORDS, the postponement of the free series, plans for the new year, the death of this website etc etc

Previous site header:


FREE CD SERIES. CLICK FOR MORE INFO: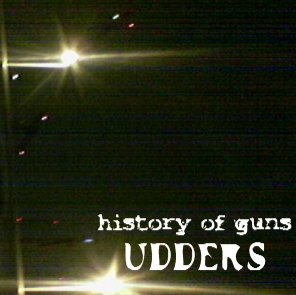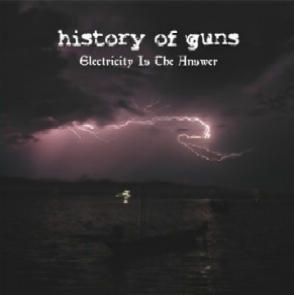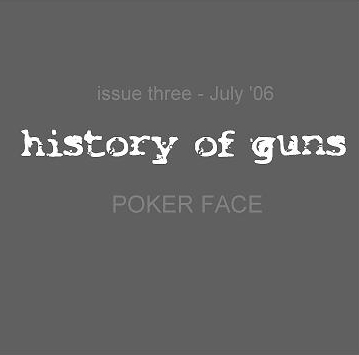 Previous 'Where Are We?':

Where are we?


A dream come true... we played the April 2006 Whitby Gothic Weekend... twice! The band are currently learning a new set with backing machines in place of ex-drummer Hughes so we can get back out playing asap. We've also accidentally said we'll release a brand new ltd edition free cd every two months...
We are HISTORY OF GUNS, please kill us.


Previous Band Pic: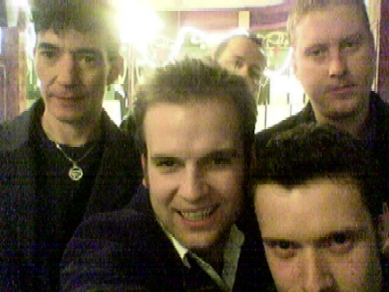 History Of Guns on Max Rael's stag weekend 11th March 2006. Del, Goose, Max, Hughes (in front)


15th Dec '06
- Remove gig fliers from front page.

11th Oct '06
- Added details of FUTUREPUNK23 gig
- Updated Discography


7th Sept '06
- Added Poker Face discography page
- Added Welwyn Garden City gig on 13/10/06


13th - 17th Jul '06
- Nips, tucks, tidy-ups mainly to discography download section
- Added Udders download links


16th Jun '06
- Update discography and complete discography pages.
- Update front page with new headlines, news items and more details on the free cd series...
Old text on front page:


It's all kicking off... we finally released our long awaited second album and landed the biggest gig of our career to date playing at the legendary Whitby Gothic Weekend... moments later Goose (bass) and Hughes (drums) had quit the band...
We are HISTORY OF GUNS, please kill us.

15th Mar '06
Lots of changes!!! New picture on front page. Added Whitby news, Goose & Hughes quitting news, Udders news.
Added first reviews of Apophenia.
New intro text. Previous intro text:


Tear it all down and start again... you wanted acceptance, but at what cost? What does any of this mean? We questioned until we unravelled and we rebuilt ourselves with pills and vodka. Pain is part of us. We can't be free, but we can lose ourselves when they aren't looking. This is our website, they put on it what we tell them. Is anybody out there reading this?

We are HISTORY OF GUNS, please kill us.


removed following old news items:


Free download of new B-sides album APOSPEMIA
All 400 free copies of the new History Of Guns promo CD, APOSPEMIA have now been taken...
but fear not! With thanks to Deathboy, the whole cd is now available for free download from: [here]
Download individual tracks, or just click on History of Guns.zip to get the whole thing.

A quick guide to the tracks:

SAVE BARNEY is electro punk

SPOONBURN is a floaty remix of previous guns track MOONBURN by sometime guns collaborator Daaaan Vincent

BREAK! is dark drum & bass courtesty of Hughes The Reverend

TOMB is live guns

YOU ARE NOTHING is just a load of shouting

INSIDE YOUR HEAD is max and del jamming after a tonne of vodka, then they added a few beats and sfx... Apparently they didn't develop it for the album 'cos they felt it was stylistically a bit similar to stuff from the debut album, FLASHES OF LIGHT LP.

COMMERCIAL contains clips from forthcoming new album APOPHENIA LP and various other things curiously cobbled together into a mildly entertaining sound collage...




New promo CD
And we all thought History Of Guns second album Apophenia would be the next release...
Bizarrely History Of Guns have released a new cd titled "Apospemia (a collection of b-sides)".

This new cd contains soundclips of songs from the forthcoming album mixed up into a curious audio montage, followed by what the band describe as "tracks which in an alternative universe would have been the b-sides to all the massively successful singles from new guns album Apophenia..."

Confused? Have the guns gone too far this time?!
Find out for yourself... a limited quantity of the new promos are available free of charge to visitors to this site




Where is Apophenia?
When asked in the pub when History Of Guns highly anticipated second album APOPHENIA would actually be released, the guns looked a little shifty. Del Gun said it was well all Max's fault... Max Rael mumbled something about it being down to Fester... and Fester just smiled with an insane grin in his eye...
When pressed further as to whether the rumours were true that they'd spent all the profits from sales of Flashes Of Light LP on 500 hour long Whitby Promos that they'd given away for nothing Max Rael said, 'Look the cds will be out when the time is right, that is we've got a plan... right... and there's stuff about funding and everything but we're not gonna let you down... it's just... it's going to be worth the wait'

APOPHENIA TRACKLISTING:
1) Death Of A Nation
2) Your Obedient Servants
3) I Am / You Are
4) One In Three
5) Apophenia
-------------------------------------------------
6) Divide And Conquer
7) Does Anyone Remember The War?
8) TV Spotlight
9) Battle Of The Bands
10) History Of Guns / After The Breakdown





14th Feb '06
A few little changes to shop and discography... nothing that exciting.

8th Feb '06
Add interview section.

Jan '05
Add Apophenia to shop.

16th November '05
Layout changes to front page.
Deleted news items:


History Of Guns 27 Paces DVD
"In a departure from the messed up blend of dark ambient and noisy beats of debut album
FLASHES OF LIGHT LP, the guns played a breathtaking high energy industrial punk set"...

The History Of Guns gig on August 14th 2004 at The Marquee Club in Hertford was professionally
filmed by new independent film company GOAT Films as part of a new short film about History Of Guns,
titled "27 Paces"
It will be available to buy on DVD for five pounds at the History Of Guns gig at the Purple Turtle in Camden
on 25th May 2005



FLASHES OF LIGHT LP
History Of Guns blend experimental ambient, crunchy beats, white noise chaos and more melodic
elements for their acclaimed debut album 'Flashes Of Light LP'!

"An astonishing piece of music" - Cool Noise

"Oddly brilliant, like a goth metal Underworld" - Metal Hammer

"they are, by far, the most inventive UK band to have got their hands caught
in the Industrial threshing machine." - Mick Mercer

"the single most startling album i've heard so far during 2004" - Adrian Denning Reviews

"Scary as hell, but just as fiery." - Teletext

(used with permission, (thanks to all concerned!), full reviews in the Press section)


The album sells for GBP 9.99 (plus a pound postage to anywhere in the world).
FREE DOWNLOADS & secure online ordering from Dark Cell





New Meads Of Asphodel album
History Of Guns' Max Rael co-wrote a couple and added keyboards/programming to a few tracks
of their new album, 'Exhuming The Grave Of Yeshua'...
Also the first 1000 copies of the cd feature the bonus track "Book Of Dreams - History Of Guns remix"

On release the album was awarded Album Of The Month in Terrorizer Magazine!
Online ordering is available direct from Supernal Music or Amazon

28th October '05
Finally release details for Apophenia

2nd Sept '05
Added TWENTY SEVEN PACES DVD

28th July '05
Apparently there's a few copies of the whitby promo been found lying around in the studio. Rather than give them away this time the guns asked for them to be added to the shop. (the capitalist pigs)

17th June '05
New History Of Guns paypal shop added!! Also pix from Welwyn gig and a few other general nips and tucks.

15th June '05
Hopefully simplified the site by grouping several of the menu options together under 'More Info' on the top menu. Also tidied up 'audio' page.

25th May '05
New Page! Under 'Biography & Other Stories' is the new section 'Real Guns'

4th May '05
Added Apospemia cover image and new discog page. Add Apospemia download links to Deathboys site.

3rd May '05
Tidied up front page... added first details of Apospemia to the news section... removed duff links in the audio section.

5th April '05
Added details of new History Of Guns gigs

21st March '05
Change to front page... Old news item removed:


WHITBY PROMOS ALL GONE!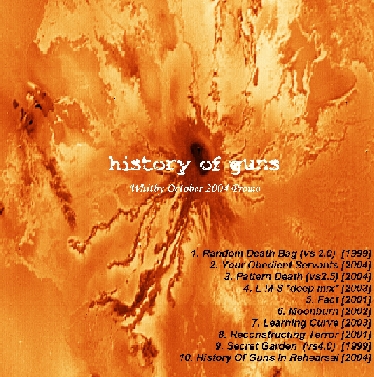 The latest bid for international gundom... History Of Guns - Whitby October 2004 Promo collects some classic & rare moments of the guns story so far... tracks include: Random Death Bag (vs2.0), Your Obedient Servants, Pattern Death (vs2.5), LMS - deep mix, Fact, Moonburn, Learning Curve, Reconstructing Terror, Secret Garden (vs4.0), History Of Guns In Session
As ever a few free copies have been put aside for internet gun fans Sorry all gone!!

Your Obedient Servants is the first new track taken from the forthcoming History Of Guns cd, APOPHENIA... you can download it for nothing from DARK CELL DIGITAL MUSIC (Don't be put off by the login screen, register for an account, it's free and everything... )

16th February'05
Made the background yellow. The band apparently want the site to be more visually striking... also added the fromm quotes, oh and added more history of guns collaborators to the 'who?' section.
11th January'05
Funding for History Of Guns next CD 'APOPHENIA' is proving as tricky as ever... clutching at straws the band have decided to add a link on the website allowing any kindly cyberspace passersby to donate money to the cause!... also started adding sleevenotes to the stories section.

Old news item removed:

"Have great holidays, and remember: this is the time of year when most people are unhappy. That's why they started all the solstice rituals, to begin with. Problem is, buying and receiving gifts doesn't actually fill that empty place - in fact, consumption can exacerbate it.

So chill with some friends, don't worry about not getting as much work done, and get into the slowdown if that's what your body and mind are doing. You'll find a new, seasonally appropriate pace in the next couple of weeks."
- Douglas Rushkoff

10th December'04
Prompted by a recent history of guns review which said, "It's kinda hard actually understanding who this guys are, the band has a keyboard player who claims that he doesn't play anymore, a bass player who turned out to be a pathological layer and a singer that, can't actually be referred to as a singer, and the drums section, it's steel blurred, drummer or drum machines. The band doesnít exactly help revealing the identity of itís players, some changed along the years, some came back, and as much as itís hard to understand whatís going on with those guys" (sic were appropriate)... There's now a new section cunningly titled, 'Who?'
25th November'04
Changes to the front page... quick links at the top... news items... you know the kind of thing
17th November'04
Oh err I've done loads of updates since the last one below, I just seem to have forgotten to log them. My sincere apologies to any dedicated readers of this little page. Today I finally made the 'Complete Discography' page decent... (tho I still have to add the Whitby promo...)
16th September'04
Added the 'Audio' page... (what do you mean it's about time?!)
August - September'04
More on the site overhaul... nothing exciting, making the fonts all the same... oh and much smaller... yes fed up with the abuse, we are conforming to the dull standards set by all those other modern websites out there...
Personally I don't see what's wrong with clipart, or why the fashion for enormous margins... I say you've got a whole screen... use it!! And I'm not talking about cluttering it up, space is good, just I for one am fed up with these tiny little sites, where you've got more margin than content and all the text is in a tiny font in three word columns!! It's a sign of the times where people are drawn to lush, smooth easy on the eye blandness, and content, navigation takes a back seat. Who wants a fight?
19th August'04
Continuing site overhaul...

18th August'04
Long overdue site overhaul!!! (look it wasn't crap, just err old fashioned ok?!)
Added first guns live pix... new background image... tidied up news page... sorted out gallery...

Old news items removed:

Special One-Off Gig
History Of Guns will be trying out the new line up at a special one off gig!
The gig is on August 14th 2004 at The Marquee Club in Hertford (30 mins by train from London)
The band haven't revealed what setlist they're planning to play... when we last spoke to them in the pub they drunkenly declared they were going to play nothing from their recently released critically aclaimed debut album FLASHES OF LIGHT LP!!! "Just really old songs and brand new ones" slurred a drunken Del Alien.
Tickets are £5.00 in advance or £6.00 on the door... for more info, directions etc. visit The Marquee website
The Meads Of Asphodel 'Jihad EP'
History Of Guns are credited with keyboards on the bonus track 'Assassins Of Allah' on the cd reissue of the Jihad EP from accalimed experimental black metallers The Meads Of Asphodel.
"Last year they (Meads) released a 10" split picture disc with MAYHEM which was limited to 666 copies. This vinyl received the "single of the week" in KERRANG! magazine and orders were many times over the number of copies available. Now, they bring you the same on CD format with two bonus tracks from the controversial English band. So, you get the two popular MAYHEM tracks which are in fact the only studio recordings that exist with the classic line-up; and THE MEADS OF ASPHODEL who follow up on last years' debut with a 5 track mini album of atmospheric black metal, inspired by the 11 September attack."
Available from Amazon
Complete tracklisting: THE MEADS OF ASPHODEL 1) Intro 2) Jihad: The Grisly Din of Killing Steel 3) Paradise 4) Another God in Another Place (+ BONUS TRACKS:) 5) Tanks in the Holy Land 6) Assassins of Allah MAYHEM 7) Freezing Moon 8) Carnage
19th July'04
Added news of Guns gig...
18th June'04
Added more reviews of Flashes Of Light...
10th June'04
Announcement of the newest shiniest gun ADE 'FESTER' SCHUSTER!!! Updated front page and news sections.
Removed news item:

More remixes!!
After the success of the Fish remixes (see above) History Of Guns' Max Rael has been asked to remix some tracks
for talented scottish singer/songwriter Jo McCafferty. You can visit her website here!!
9th June'04
As a taster for tomorrow's announcement, you can get your first peek at History Of Guns new lineup in the gallery section.
21st May'04
Added some more reviews of Flashes Of Light LP
Removed news item:

Max Rael Remixes Fish...
It's any little boys' dream to work with one of his all time-heroes...
Well this is exactly what happened when 'Fish' (former lead vocalist with Marillion) asked h.o.g's max rael to remix three tracks
to feature on a companion disc to his latest masterpiece, 'Fellini Days'.
The CD can now be bought separately by following this link to Fish's website
It is listed in the albums section as: 'FS099 - Fellini Days Companion CD. £5' Yes that's right!!!
ONLY FIVE OF YOUR EARTH POUNDS!!!!!!
When ordering, why not, if you don't mind (and why would you?),
mention in the comments section that you found the details on the history of guns website...
(But only if you want to... history of guns would never ask you to do anything you didn't want to do)
30th March '04
More reviews... minor corrections to discography section...
24th March '04
Added first details of new project, Apophenia EP to the forthcoming projects section in news... added more reviews to press section...
23rd March '04
Changes to news... added first review of Flashes Of Light LP
5th March '04
STOP PRESS!! History Of Guns debut album, 'FLASHES OF LIGHT LP' now available to order!!!
3rd March '04
made contents table a little easier to read...
Added Contact page... guestbook and History Of Guns information line
More reviews in press section.
Feb '04
Additions to the press section. Updated links section and news...

11th Dec '03
Additions to the press section.
Change to 'guns for sale' page... added Flashes promo to the discography... Ads should have been removed, but the ruddy things are still there!!!!
3rd Dec '03
Additions to the press section.
New News (if you see what I mean?!) (more flashes info, and new meads album)
17th November '03
Stripped the main page down a bit in preparation for the new Flashes Of Light stuff...
8th October '03
It's a secret... i'm not telling you
11th September '03
Updated press section. oh and links page... oh and tidied up the news page. oh and updated the mirror pond page (fly home safely f)
July '03
Updated news. Various nips and tucks
1st April '03
Updated news.
20th March '03
added some reviews to the 'press' section
26th February '03
Nothing exciting relly... added Twin Peaks FWWM extra footage campagin link... oh and the link to the guns record label, Liquid Len Records.
19th February '03
Made biography a little easier to find!! and tidied the story page up a bit generally... should really put something more recent on there.
Put page up for Guns For Sale
Change discography page to include links to purchase... oh and changed to only include liquid len releases. Old demos etc can be found on the 'complete discography page'.
13th February '03
Few corrections to biography
Split out guns releases from compilation appearances on the discography page
Add links to Non Stop Music
27th January '03
Finally updated biography
Added anti-spam link to main page
Added Ebay link to the main page and the links page
16th January '03
Added links to lovely people at The Music Collective for the downloadable mp3 of 'Moonburn' and online ordering!!
There's a lot more you can download from The Collective... Click here to go their front page

15th January '03
The Mirror Pond EP released
Amended 'Selected Discography' page
some old news:
THE MIRROR POND EP
Scheduled for release in November 2002 is the next History Of Guns CD, 'The Mirror Pond E.P.!!
The tracklisting (subject to argument) will probably be: Moonburn, Tunnel (Skin Can't Breathe), Journey (Mimozine), The Mirror Pond (full version)
Final mastering and artwork design is currently taking place.
Pre-order your copy by sending chq/postal order payable to 'History Of Guns' for £3.00 / $5.00 to: history of guns, c/o Liquid Len Records, PO Box 165, Hertford, SG13 7ZN, ENGLAND
November '02
New lineup announce

16th October '02
New site launched!! Well it's really just the old site but in frames!!
A few nips and tucks here and there, too numerous to go into... nothing to really worry about though!
Added the shop page, but errrr.. the online ordering isn't quite ready yet!!

7th October '02
Changed pictures on 'Gallery' page
Updated news

Previous news:

THE MIRROR POND LP
Consumed by business rhetoric, History Of Guns have made the decision to downsize the forthcoming Mirror Pond LP to an EP!!
The tracklisting (subject to argument) will probably be: Moonburn, Tunnel (Skin Can't Breathe), Journey (Mimozine), The Mirror Pond (full version)
(so many brackets!) The remaining songs have errrr either failed to pass History Of Guns variable quality standards, or came from different writing sessions which didn't really fit with the style of the original Mirror Pond sessions with Kev.
In the words of Del Alien, after listening to the rough mix of the full album, 'It'll make the nuts of an EP.'
FLASHES OF LIGHT
On October 30th 2001 History Of Guns announced that their next project is to be a new album of dark electronica provisionally titled, 'Flashes Of Light' to be written and recorded entirely by Max Rael and Del Alien during the winter... Unfortunately it's now summer and so far they've only managed to write half of it! Parts 1 & 2 are sounding pretty exciting thought!
16th September '02
Added new Hertford postal address

16 July '02
Added some new links...

Updated news

Previous news: The Disconnect EP
Any day now the latest History Of Guns EP should arrive from the manufacturers! A limited quantity of promos will be posted out free of charge to fans on our database In order to stand a chance of receiving a free copy send your postal address to: history of guns, c/o Liquid Len Records, PO Box 197, Potters Bar, EN6 4SH, ENGLAND.
20 May '02
Updated the main page to include the quote from BlueMetal Zine. oh and updated the news!

Previous news: Predorders are now being taken... for the forthcoming history of guns compilation provisionally titled, 'INSIGHT OR INSANITY?'. This compilation will include some of the guns best work to date as well as some promised rare material. To order your copy please post a cheque or postal order for GBP 6.00 or USD 10.00 to: history of guns, c/o Liquid Len Records, PO Box 197, Potters Bar, EN6 4SH, ENGLAND.
12 Apr '02
Sorry it's been a while, there's been a few changes going down maaaaan...
Updated the news, added press reaction to Psycho / The Mirror Pond [edit]

Previous news: (which due to the unique way history of guns operate is no longer accurate!)
Final mixing is currently underway of the latest History Of Guns album, 'The Mirror Pond LP'.
The current provisional tracklisting is:
Saviour, Moonburn, Tunnel (Skin Can't Breathe), Compassion Fatigue, Going Hollow, Flow Through The Darkness, Monomania, Dead Man, Journey (mimozine), The Mirror Pond
8 Jan '02
Happy new year and all that kind of stuff...
Well it said the last update to the site was on December 24th, but there's nothing in this log, and i certainly can't remember what it was now! (it can't have been very important!)
Anyway... today i added the box so people can get notified when the main page is updated, created the new Army Of Apathy yahoo group... and generally nipped and tucked at the main page.
Oh and i added the mail order details for the Tribal Sin compilation to the discography page... (apologies for the delay i know people have been after this).
So there you have it... a new year, new apologies, I'm feeling strangely optimistic... but don't worry, I'm sure it won't last.
30 Nov '01
Put the news in boxes so it's easier to read!!
Added artwork for Psycho and Liquid Guns.
28 Nov '01
Added artwork for the Disconnect EP and Little Miss Suicide EP to the discography section.
Started improving the links section.
Changed news. Previous news:

History Of Guns are pleased to announce they have recorded 9 tracks for their next album, provisionally titled 'The Mirror Pond LP'. The majority of the tracks have been cowritten by Max Rael, Kevin Gerrish and Del Alien. Completed track titles include: Soaked, Compassion Fatigue, Tunnel, Moonburn, Journey, and The Mirror Pond.

History Of Guns announced today (30th Oct 2001) two planned projects. The first is to be a compilation containing some of their best works to date (and we are promised some rare tracks!!) Currently no track details or title has been provided.
Secondly (and more excitingly!) a new album of dark electronica provisionally titled, 'Flashes Of Light' to be written and recorded entirely by Max Rael and Del Alien during the winter.

27 Nov '01
Added lyrics for Psycho.
Put all the discography information into a table, which makes it much more readable!
(also added links to Neat records and Christcrusher records.)
Changed main pic on front page to new hilarious morphing image... (moved previous pic to the gallery)
13 Nov '01
Added missing lyrics for Secret Garden, Flashback, Fifty Seven Days, Burn, and Disconnect in the discography section.
Added discography page (with lyrics) for The Touch / Shallow (live at Sync City).
Tidied main page... (edited news slightly, got rid of Listbot, and free Little Miss Suicide EP offer)

30 Oct '01
More stuff added to the Discography section, most noticeably the lyrics to Reconstructing Terror...
A few nips and tucks to the main page.
Previous news:
A Sudden Change Of Plan!! Due to more delays with funding the Disconnect EP duplication, the band have decided to hopefully satisfy desire for new Guns material with the release of two brand new tracks: Psycho and The Mirror Pond...


The long awaited debut album from Black Metal band, 'The Meads Of Asphodel' titled, 'The Excommunication Of Christ' is now available from Supernal Music (Ferly005CD) Featured on the album is the track 'Jezebel And The Philistines' written by History Of Guns according to a brief provided by Meads vocalist Metatron. Interested? The following info is taken from the Meads website:
'Formed in mid-98 by Metatron [Vocalist] & Jaldaboath with a desire to create Heavy Guitar based original Black Metal with Medieval/ Eastern influences and a lyrical concept derived from Biblical Apocrypha, Fallen Angels and Death.'

19 Oct '01
Lots of little changes, added the pop up max face when the mouse goes over the link to the gallery.
Took out the individual pix of the band from the gallery, hopefully will be able to load up some more current ones soon.
Took out the link to the lyrics page, the new improved discography page will eventually include all the lyrics.
Added links for 'Random Death Bag' and 'Little Miss Suicide' pages.
Remind me i must do something about the truly appalling links page!!

17 Oct '01
Wow! Two updates in two days!! (and hopefully more to come!!!) Added link for Secret Garden on the discography page, to it's own detail page. Made links a little less subtle by putting 'click for more details' next to them! Also added something from dynamicdrive to make the links change colour when the mouse is over them.
I've got the lyrics from Max and Del and hopefully i'll remember to bring the lyrics in tomorrow, but you know what my brain is like!


16 Oct '01
Added link for Reconstructing Terror on the discography page, to it's own detail page. Though it's not very obvious it's a link... hmmmmmm... and i do so hate underline links... any suggestions?.. oh and if you're wondering i've not finished with the new page, it's going to include the lyrics, and errrr... be tidied up a bit. Just i'd better get on with some real work. :-(


27 Sep '01
Errrr... just added a bit more detail to the discography page. Sorry, it's not much i know. Am thinking though of having links running off all the releases to seperate pages detailing artwork, sleeve notes and credits... now isn't that exciting?

21 Aug '01
Added Psycho / The Mirror Pond to the discography page.

13 Aug '01
News updated.
Previous news:
The first batch of the Disconnect E.P. should arrived any day now, so expect to see them through your doors soon... (anyone know any cheap, reliable cd duplicators?!)


History Of Guns are pleased to announce they have recorded 9 tracks for their next album, provisionally titled 'The Mirror Pond LP'. The majority of the tracks have been cowritten by Max Rael, Kevin Gerrish and Del Alien. Currently hoping for a September release date.

31 May '01
Changed the order of the discography, (best to have the most recent stuff at the top eh?!) Added Alexei Sayle quote from BBC interview. (incidentally in case anyone cares the question asked was: "I've suffered from depression for many years. Has it ever afflicted you and how do you combat it? (Henry Lo, Singapore)")
News updated.
Previous news:
STAGGER LEE QUITS HISTORY OF GUNS!!!
After 3 glorious years with the band the troubled bass player has decided to retire as an active member. Hopefully Stagger will be able to make guest appearances and continue to write with the band.
News on Stagger Lee's new project 'Thora Hirds Twin Sister as we receive it...

History Of Guns have now completed their first album Enough Is Too Much... send e-mail for details...
Soon to come, the new History Of Guns cd 'Disconnect E.P.'

Songs will include:

Pride (In The Name Of Arrogance), 57 Days, Burn, Disconnect.

This will be the last release from History Of Guns with the lineup of Del Alien, Stagger Lee and Max Rael... As sad as we are to announce the departure of Stagger Lee, we are pleased to announce the arrival of new member Kevin Gerrish on Bass Guitar.. The new material is sounding excellent and includes additional guitar work from regular guns contributor Gary Hughes and the new boy Dan Vincent.
5 April '01
Got rid of cover page...

15 March '01
Added new band pic to front page... Tidied up the discography page.

8 January '01
Changed the front page layout... now starts with content. Changed background from martian sunset to subtler grey swirliness... Added new 'Press' page. News updated.
Previous news:
History Of Guns have once again been selected to appear on the subversive underground 'No Holy Additives' compilation series. For the latest CD (vol.4) they have submitted a new track titled 'REFORMING TERROR', written by Max Rael & Del Alien.
Infamous bass player Stagger Lee has once more vanished into the ether!! If anyone has seen him please mail historyofguns@hotmail.com immediately...
The first album, provisionally titled 'Enough Is Too Much' is set to be released during July... for information as it happens (or occasional violently meandering rants about society), subscribe to the Army Of Apathy mailing list (see below)
June '00
Removed 'tree' background... I liked it, some people thought it made the page a bit hard to read... it's been there for the last six months, so it's time for a change. Soothing black it shall be until I find a suitable replacement image.
Updated discography on 'Guns for sale' page.
Joined Ring Of Dark Delights webring.
News updated.
Previous news:
I feel like I've been banging my fucking head against a fucking brick wall for the past twenty-fucking-five years. I feel that if I have to spend one more fucking day staring at this fucking screen I might as well accept the fact that the rest of my life is going to be filled with a series of meaningless tasks, and that I will never achieve or accomplish anything. Not only does society not care, it actively despises... Gnawing away at you until your life and self-respect drain away, curdled and dead.

Sometime during December '99 and January '00
Re-added info about free single to the news section. Joined 'Not Normal' web ring. Added 'Quotes' page. Moved the 'history of history of guns' page to the 'stories' section... is it just me or is this too long?
Added 'Army Of Apathy' History Of Guns official mailing list. (I really ought to think of something to send to everyone).
Other little changes that I've forgotten.
dd mm yy
02/11/99
News updated. Seperate Links page added and updated.
Previous news:
A fight nearly errupted at the History Of Guns band meeting last week between vocalist Del Alien and bass player Stagger. After Del Alien shouted, shook and raged at Stagger for ten minutes, Stagger calmly announced his decision to quit the band... Fifteen minutes later saw them smiling, embracing and drinking to the future of the band
talking of which...
History Of Guns have decided to release a single as a promotion for their forthcoming album. A llimited amount of these will be available to fans free of charge anywhere in the world, to order your copy please send your name and address to historyofguns@hotmail.com
On October 16th History Of Guns will be filming a live session in front of an audience in London. If you are interested in
applying for some the extremely limited tickets please send your details to historyofguns@hotmail.com
21/09/99
News updated. Details of free CD single added to 'History of History Of Guns' page and 'Guns for Sale' page.
Link updated to Gothism.
Previous news:
Kyle Reece Gilbert born 2:27am Sunday 22nd August.
The first child of the guns.

History Of Guns are proud to have been featured on the new British Underground Compilation:
'No Holy Additives - Part 3 -' created/distributed by Godreah and Neat Records AVAILABLE NOW!!!
24/08/99
News updated, 'Goths Against Hate' ribbon link to 'Gothism' zine added.
Previous news:
Stagger Lee has finally resurfaced after being lost in the void for so long. In his own words he's 'been having a nightmare.'
21/07/99
News updated, links to M00NxCHILD and Neat Records added.
Add 'No Holy Additives' info and Godreah contact to Guns for Sale page.
Previous news :
History Of Guns CDs will be available mid-July.
Read the lyrics to the new History Of Guns song 'Ode To The Succubus' written for Delilah Rose, at her site listed below.
Have you seen our bass player? The search for Stagger Lee continues.

20/07/99
Added stories 'Never Say Goodbye' and 'The Well'.
16/07/99
New front page added. Various new backgrounds added.
09/07/99
Added 'stories' page, and first story 'Sold On Secrets'.
06/07/99
Added 'Reformation Day' lyrics.
01/07/99
News updated. Guns for sale page updated. This history page added.
Previous news :
Screaming Lord Sutch found hanging from a rope - I suppose it goes to show that if you fight the system, the system fights back... They got to him as they will get to all 'individuals' eventually... Join the fight, it's our only hope.
Stagger Lee, the somewhat accident prone bass player of History Of Guns, continues his journey into domestic slavery - he had to rush off after the recent History Of Guns photo-shoot, to go and buy a vacuum cleaner...